Vladislavs Tatarincevs
29 May 2009 10:58:23
Do you remember times, when in 5.x users opened attachments made modification, in temp folder, and then sent document back, and wondered where are the changes are gone?
I can bet you had same cases not only in 5.x, but also in 6.x, 7.x, when Lotus Notes had a feature that people can press EDIT and modify attachment directly from mail, and when they made SAVE in MS Office, document was actually modified in mail also.
now we have an option to change DEFAULT behaviour of LN, when user clicks an attachment.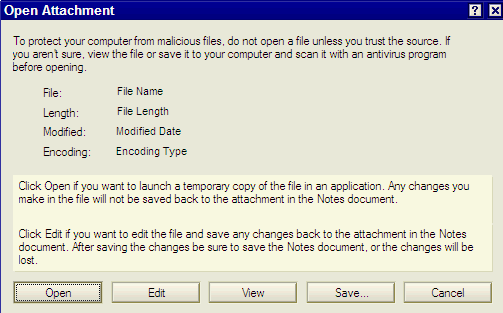 here is my post how to easy add notes.ini values to client workstation in Domino 8.5
http://www.vlaad.lv/lotus.nsf/dx/05092009111532PMSAMRRR.htm?opendocument&comments
Ability to double-click on attachments to open without the 'Open Attachment' dialog box displaying
http://www-01.ibm.com/support/docview.wss?uid=swg21292126
Answer
Starting with Lotus Notes 8.0.1, you can prevent the "Open Attachment" dialog box from appearing by enabling the local notes.ini parameter
AttachmentActionDefault=1
. With this parameter enabled, double clicking on an attachment icon will simply open the file without a dialog box first displaying. This parameter may also be set via a Desktop policy.
The setting options for this notes.ini parameter include:
AttachmentActionDefault=1 Defaults to "Open"
AttachmentActionDefault=2 Defaults to "Edit"
AttachmentActionDefault=3 Defaults to "View"
AttachmentActionDefault=4 Defaults to "Save..."