Vladislavs Tatarincevs
25 June 2008 18:02:31
Hello, every one.
Here are screen-shots from tools which I plan to finish and this software is available for download.
Why I had a need for this tool?
I am a Domino technical expert and provide technical support for many customers, I have monitoring solution in my office,
but I am not always in office. For example, If I just upgraded a server, I need to bring my notebook with me all the time, so I can connect to customers network/servers.
Or when customer calls me, I don' t have a notebook with me... but I have a phone always with me.
So features that this tool provides:
1. OS Statistics.
2. Domino version
3. Pending mail
4. Dead Mail
5. Hold Mail
6. SMTP tasks status
7. Router task status
8. Active user count
9. Shortcut for SHOW USERs command
10. Shortcut for SHOW Server command
11. Shortcut for SHOW Server command
12. Restart Router command shortcut
13. List of other Domino servers
14. Domino console (you can issue Domino commands here)
15. You can Browse Domino directory and View ACLs of databases(only to which you have access).
16. Show latest SMTP, SERVER, ROUTER errors.
17. Shows DiskSpace
18. Uptime, server start time.
And the final
THIS TOOLS FREE!!!!!!!!!!!!
Written by Lotus Administrator for Lotus Administrators. May Be Lotus can Include this as an option in Domino 6.x/7.x/8.x?

Domino versions:
It works fine on 6.x, 7.x, 8.x servers, I assume will not work on 5.x, and 4.x.

Known limitations:
You cannot issue EXIT, RESTART Commands in Domino console page. All other works fine. I plan to remove this limitation.
At the present moment the is a limitation, hardcoded filename, please place this DB in a root, under web.nsf filename.
I plan to fix it, but before I was focused on other issues.

Installation:
Copy to server, recheck ACL (DEFAULT-NO ACCESS, LocalDomainAdmins MANAGER), Sign DB with server ID.
open in a browser http://YourServer.Host/web.nsf


Next versions
You may also support a development team with PayPal Donations, if you like this software.
If you signed a database it should look like this: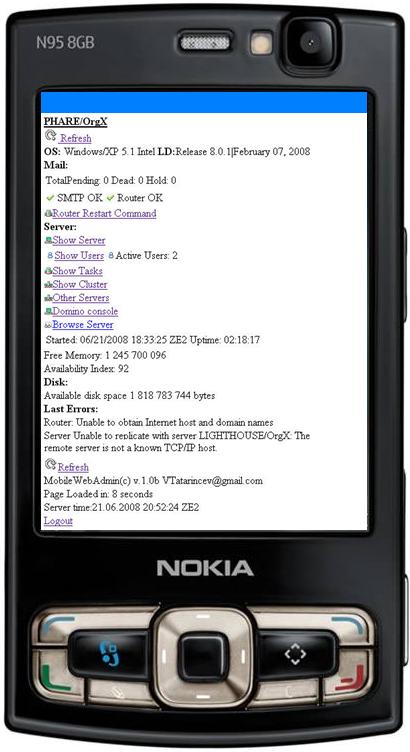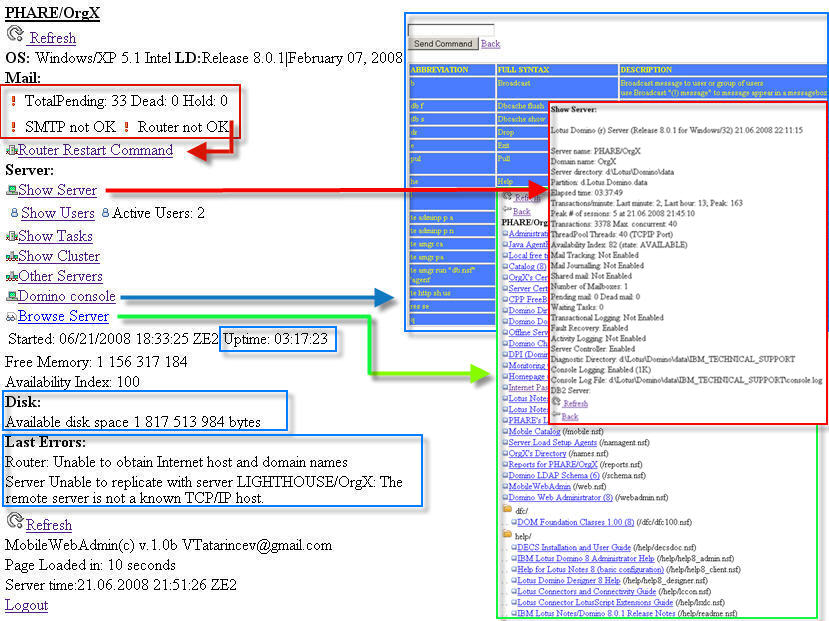 web.zip